SÉSAM SILK | THE MAKING OF
Sésam proudly supports the shift in consumer awareness towards sustainable fashion.  All silk used in making Sésam scarves is GOTS certified (Global Organic Textile Standard) and Seri.co certified.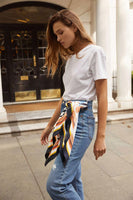 GOTS CERTIFICATION
GOTS is the most comprehensive global textile processing standard for organic fibres, including silk. GOTS certifies compliance with internationally recognised environmental and social standards.
The GOTS certification means there has been an independent review of Sésam's entire silk supply chain, beginning with the organic certification of our raw silk, to the environmentally and socially responsible weaving, treating, printing and hand finishing of all Sésam products.
GOTS ensures our silk treatment and dyeing methods do not negatively impact the environment and that the rights of every person involved in making our scarves have been upheld and respected.  
SERI.CO CERTIFICATION
Our artisans in Como are world-leading in terms of their refined and technologically advanced production processes. The Seri.co certification was developed to distinguish and protect the unique quality and the integrity of textiles from Como and is issued by Bureau Veritas Italia spa, an independent verification organisation.
The Seri.co certification is provided exclusively to companies headquartered and manufacturing in Italy, and ensures Sésam scarves are made in a way that meets international environmental, ethical, social impact and health and safety standards.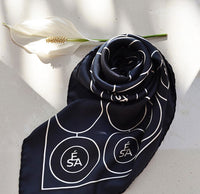 SOCIAL AND ETHICAL
The Seri.co certification also ensures compliance with internationally recognised quality management and social responsibility standards, known as ISO 9001 and SA 8000. This means Sésam products are made in an environment where employees are treated ethically and with respect and that refrains from unethical behaviour such as applying misleading labels or exploiting patented processes.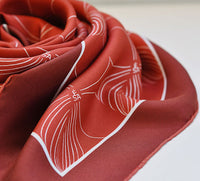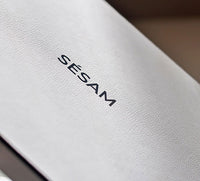 PACKAGING
Our packaging tissue is made with soy-based inks which are more environmentally friendly than petroleum-based inks and make the paper easier to recycle. Our tissue paper is also certified by the Forest Stewardship Council, an organisation that works to promote sustainable forestry worldwide. You can be confident that our packaging tissue has not caused any harm to the world's forests.
The FSC has developed a set of ten principles and 70 criteria that apply to FSC-certified forests around the world. These principles include ensuring compliance with national and international laws, maintaining the social and economic well-being of workers, upholding indigenous peoples' legal and customary rights of ownership, maintaining, conserving and restoring ecosystem services and environmental values, and avoiding, repairing or mitigating negative environmental impacts.