'A flower blossoms for its own joy' – Oscar Wilde
Our mission is to create uplifting, elegant, unique luxury pieces - inspired by simple pleasures.
We combine exceptional quality and craftsmanship with our exclusive contemporary designs to create timeless, modern, wearable silk scarves.
Sésam is based in Melbourne, Australia.
Sésam brings together unique design and superior craftsmanship with a strong environmental ethos, to create everyday versatile pieces that are uplifting, spark a sense of joy and embody enduring elegance.
After launching in July 2020 we have been featured in publications including Vogue, Stella Magazine, Town&Country and 5Eleven magazine.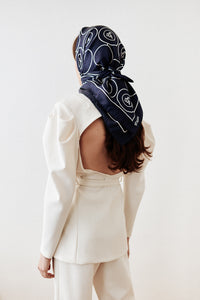 Our supply chain is backed by the Global Organic Textile Standard (GOTS) certification and the Seri.co certification.
This means our scarves are made in a way that respects the environment as well as the rights of every person involved in production. Our tissue paper is also certified by the Forest Stewardship Council, meaning it has been sourced from sustainably farmed forests. You can read more about these certifications on our Sésam World page.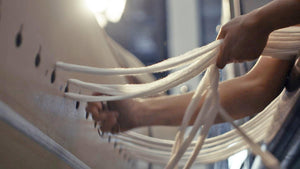 FINEST MATERIALS

Sésam scarves are born in the Lake Como region in Italy, an area long known to produce some of the highest quality silk in the world.  Como's silk industry was pioneered by Ludovico Sforza, the Duke of Milan. In around 1400, farmers began growing mulberry trees, which produce both an edible fruit and the leaves, which are eaten by the silkworms. Locals refer to the Como area as emanating la cultura del bello, meaning 'The Culture of Beauty', which is embodied in the silk, architecture, palm-lined fjord, Mediterranean climate and the lifestyle. Sésam silk bears the Seri.co certification, Italy's quality trademark to protect the integrity and unique refinement of Italian silk.

FIND OUT MORE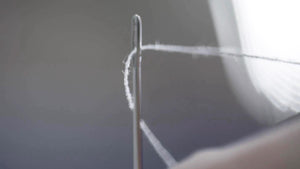 CRAFTSMANSHIP

Our silk is produced in one of the oldest silk houses in Como, by artisans who have been perfecting their techniques across generations. Sésam scarves start from the natural silk fibres of the Mulberry silk worm, which are woven into a dense 18 momme silk twill. The density of Sésam silk, signified by the high momme weight, optimises durability and longevity, while maintaining the light and breathable characteristics of the natural fibres, resulting in a perfect trans-seasonal wardrobe item. Sésam silk is treated and printed using techniques that ensure the highest quality color, texture and finish. Each scarf is finished with a rolled French hem, secured with fine hand stitching.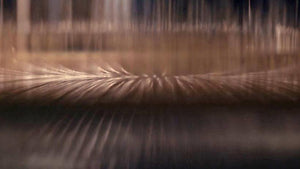 SUSTAINABILITY

All Sésam silk is GOTS certified (Global Organic Textile Standard) and Seri.co certified. These certifications are issued by independent organisations, and are only awarded to producers who meet internationally recognised environmental, social and ethical standards. Our packaging tissue is certified by the Forest Stewardship Council, an organisation that ensures the paper has been sourced in an environmentally friendly, socially responsible manner.

FIND OUT MORE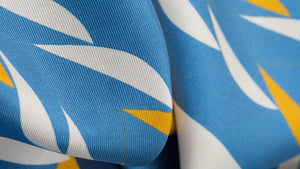 CONTEMPORARY DESIGN

Sésam scarves are designed in Melbourne, Australia. Our unique designs are inspired by life's simple pleasures, and tell the story of beautiful moments and adventures, whether in the past or yet to be embarked on. Rich colors are combined with a contemporary, paired back aesthetic. The result is a unique take on a classic accessory. Our designs are fresh and uplifting, elegant and versatile. Our focus is to make your life better, with beautiful moments to remember and cherish.